Living in Australia
July 19, 2022
2022-08-11 0:34
Living in Australia
Living in Australia
We've carefully curated these resources to help you navigate the challenges of migrant life.
While Australian States and Territories can differ in climate and lifestyle, the closer you live to any capital city or other central hub, the higher the rent and buying price will be.
This is an approximate guide to the cost of renting in Australia: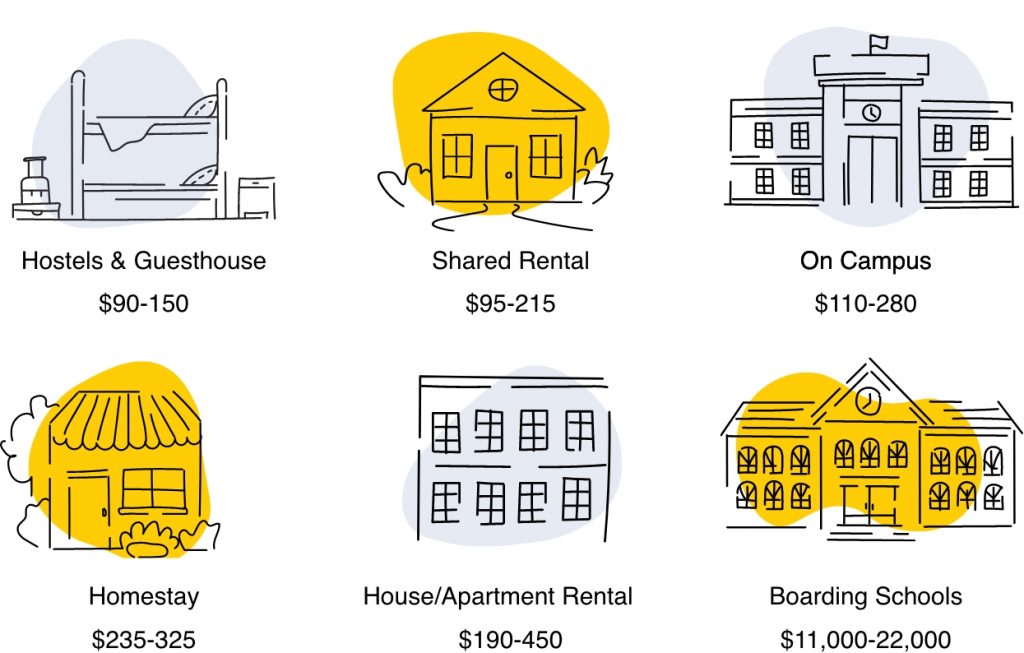 As of May 2022. Source: https://www.studyaustralia.gov.au/english/live/living-costs
Australia's top websites for renting and buying are:
www.realestate.com.au
www.domain.com.au
www.property.com.au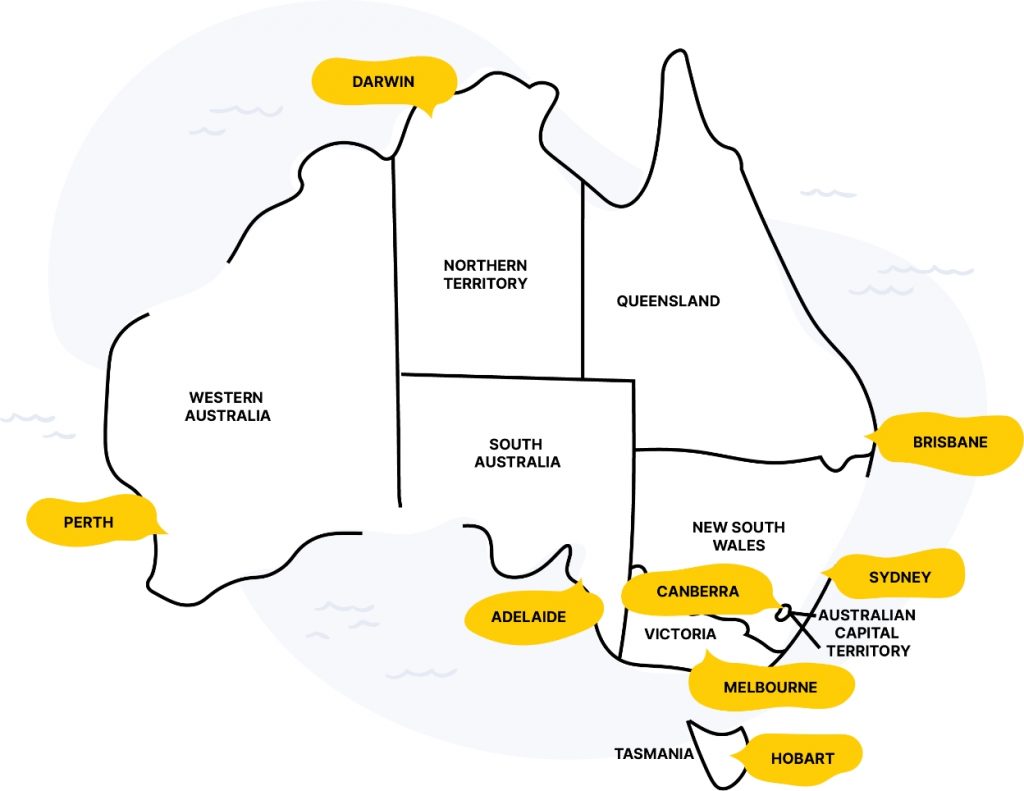 Within Australia, each city has its own special character.
Adelaide, South Australia offers an interesting mix of laid-back culture with an active festival scene.
Brisbane, Queensland is a vibrant city and business centre – alongside beautiful beaches and theme parks.
Canberra, Australian Capital Territory is the Australian capital and home to Parliament House, world-class museums, and dynamic art galleries.
Darwin, Northern Territory is highly multicultural and proudly showcases the art and culture of the local First Nations people.
Hobart, Tasmania is known for its pristine environment and historic villages. It's also Australia's second oldest city.
Melbourne, Victoria is the multicultural and artistic centre of Australia – famous as a cosmopolitan hub for fashion and food.
Perth, Western Australia is small and isolated, but offers a unique mix of progressive culture and uncomplicated city life.
Sydney, New South Wales is one of the world's most famous tourist destinations – home to the iconic Opera House and Bondi Beach. It's also Australia's largest city.
It's very common for people to share accommodation when they first arrive in Australia. This helps them get started with a lower financial commitment. Importantly, it also offers a great opportunity for them to meet new people and build a social network.
Popular websites for finding roommates or sharing accommodation are:
flatmates.com.au
sharehouses.com.au
ozflatmates.com
You can easily buy your office supplies, study and work-related stationery, furniture, and electronics in one place.
www.officeworks.com.au
www.officenational.com.au/shop/en/stationerystore
With stores in many locations throughout Australia, you'll find low prices on quality items for your everyday needs, including: clothing, homewares, entertainment, technology, gifts and more.
www.target.com.au
www.kmart.com.au
Shop in style for top brands, exclusive fashion, and designer clothing, beauty, homewares, toys, gifts, and more.
www.myer.com.au
www.davidjones.com
There are many shopping hubs within major cities that offer a multiculturally diverse selection of clothing, home décor, and food. However, due to the ease of online shopping, it doesn't matter if these stores aren't close by. You can still buy everything you need to feel 'at home' in your new country.
www.fabricoz.com.au
www.asiangrocerystore.com.au
There are a variety of food shopping options available to you – from large supermarkets and bulk buying centres, to farmer's markets and cultural marts. Many offer 'click and collect' or home delivery.
www.woolworths.com.au
www.harrisfarm.com.au
Finding Work in Australia
Looking for a job in a new country can be quite daunting. You're welcome to talk to us directly and join our Facebook page. We'll share information about job vacancies and connect you with our network whenever possible. The most popular websites for Australian jobs are:
www.seek.com.au
au.indeed.com
au.jora.com
LinkedIn and Facebook are powerful social media platforms for finding jobs.
LinkedIn has a specific 'Jobs' section you can search – and we recommend forming connections to build your network in Australia before you arrive.
Facebook has many groups related to employment. Some are for networking and others for posting vacancies. For best results, join the groups specifically dedicated to your new home city or the industry you'd like to work in.
Know Your Rights as an Employee
Fairwork Australia is the regulatory body protecting all employees. If you have any questions about your wellbeing at work, pay rates or conditions, you can contact them for assistance.
www.fairwork.gov.au/find-help-for/visa-holders-migrants
We know first-hand how hard the education system can be to navigate when you're an international student. Let us take that weight from your shoulders. We're qualified to give both education and migration advice.
If you plan to drive while in Australia, you'll need to meet the timeline and requirements of the State or Territory you'll be living in. Some countries' licenses are recognised as valid to directly 'exchange' for an Australia one; while others have an 'Experienced Driver Recognition' standing which may meet some of the required criteria. For more information, click here:
austroads.com.au/drivers-and-vehicles/overseas-drivers/applying-for-a-license
Whether you buy a brand-new or second-hand car, there are various costs involved. Some of the fees are one-off and others are recurring. These include Registration Transfer Fee, Stamp Duty, and Compulsory Third Party Insurance. Most cities and central hubs have car yards and dealerships you can visit in-person to test drive a car. Many people also sell their second-hand cars privately. The most popular online resources for buying cars are:
carbuyingservice.cartopia.com.au
www.gumtree.com.au/cars
www.carsales.com.au 
Before you buy a second-hand car, make sure you check its service history, roadworthy certificate, and registration status and proof.
For temporary or occasional travel, you may choose to hire a car or pay a driver to take you.
www.goget.com.au
www.uber.com/au/en/ride
Australian cities are known for their easy-to-use and reliable public buses, metros, trains, and trams. All systems work with a reusable smart card and have online portals for checking timetables and fares.
All populated areas of Australia have an accessible network of police stations, fire departments, and ambulances that link to hospitals. In case of any emergency anywhere in Australia, dial 000 to speak to an operator who will transfer you to the right service based on your situation.
Living in a different country, starting a new job or school, and leaving everything you know behind can feel very challenging. Australia has many trusted resources to support you in your time of need.
Lifeline: 24-hour Helpline 13 1114
• www.lifeline.org.au
Support for anyone experiencing emotional distress. Includes suicide prevention services.
Kids Helpline: 24-hour Helpline 1800 55 1800
• kidshelpline.com.au
Telephone and online counselling for young people aged 5 to 25.
MensLine Australia: 24-hour Helpline 1300 789 978
• mensline.org.au/contact-us
Telephone and online counselling for men.
Suicide Call Back Service: 24-hour Helpline 1300 659 467
• www.suicidecallbackservice.org.au
Telephone and online counselling for people affected by suicide.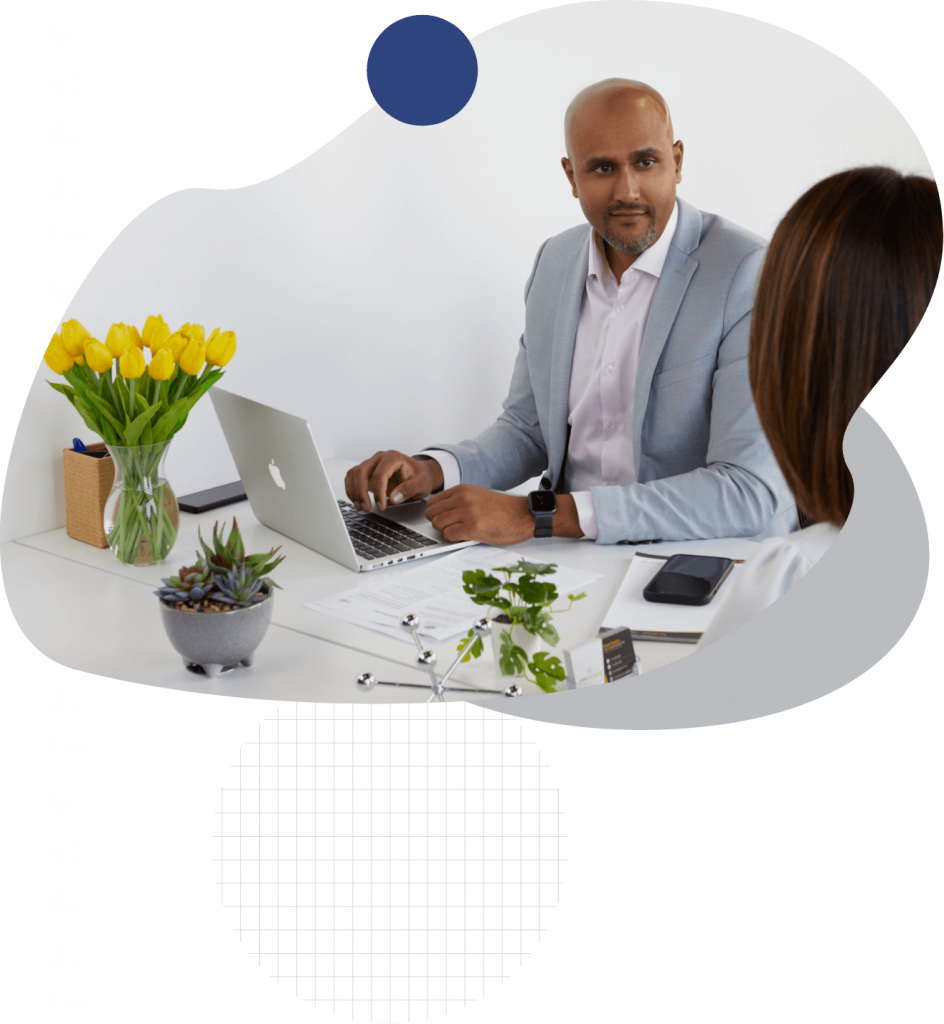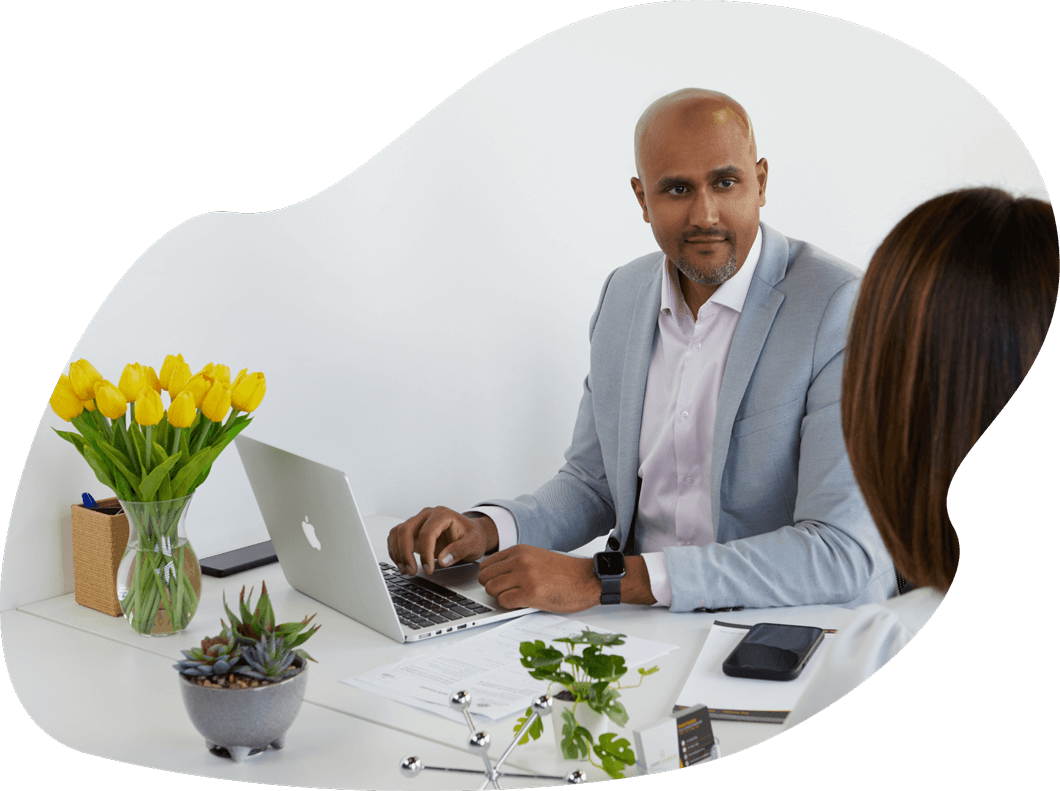 Using a Registered Migration Agent
The very first step in planning your migration journey is finding a Migration Agent who is registered with the Office of the Migration Agents Registration Authority. Only they can legally advise you on the important matters you need to know for moving to Australia.
Check the status of any Migration Agent through OMARA:
• portal.mara.gov.au/search-the-register-of-migration-agents
Applying for an AFP National Police Check
The Australian Federal Police issues police checks for immigration purposes.
Start your application process here:
• afpnationalpolicechecks.converga.com.au
• Step 1: Read the instructions to fully understand the process. When you are ready to proceed, check the box at the bottom, and select 'Start New Online Application'.
• Step 2: Select the documents you will provide (for a total of 100 or more points), check the box at the bottom, and select 'Next'.
• Step 3: Fill in your details. In section 2.3 Purpose of Check select:
   – Purpose Type: Commonwealth Employment / Purpose
    – Purpose of Check: Immigration/Citizenship – for supply to the Department of

• Step 4: Complete the rest of your application.
Want to know more? Connect with us!
Let us answer all your questions.